Rabbi Lord Jonathan Sacks Yartzeit Tribute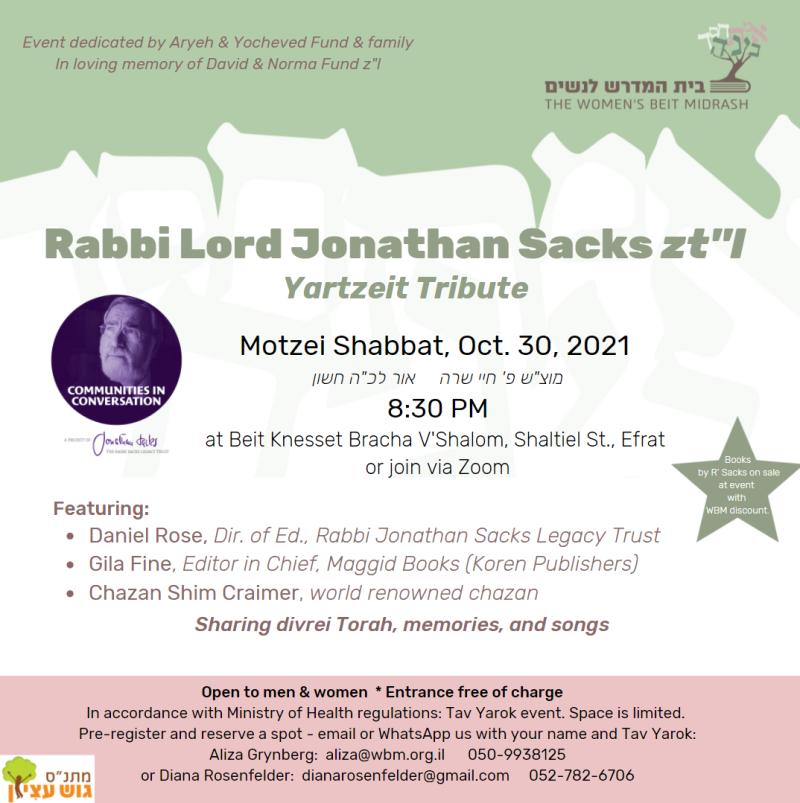 האירוע ייחל בעוד:
| תאריך עברי | תאריך לועזי | שעה | מיקום |
| --- | --- | --- | --- |
על האירוע:
Motzei Shabbat, Oct. 30, 2021
מוצ"ש פ' חיי שרהאור לכ"ה חשון
8:30 PM
at Beit Knesset Bracha V'Shalom, Shaltiel St., Efrat
or join via Zoom
in cooperation with The Women's and Community Beit Midrash of Efrat & Gush Etzion
and the Rabbi Jonathan Sacks Legacy Fund
Featuring:
Daniel Rose,

Dir. of Ed., Rabbi Jonathan Sacks Legacy Trust

Gila Fine

,

Editor in Chief, Maggid Books (Koren Publishers)

Chazan Shim Craimer

,

world renowned chazan
Sharing divrei Torah, memories, and songs
Open to men & women* Entrance free of charge
In accordance with Ministry of Health regulations: Tav Yarok event. Space is limited.
Pre-register and reserve a spot - email or WhatsApp us with your name and Tav Yarok:
Aliza Grynberg:aliza@wbm.org.il050-9938125
or Diana Rosenfelder:dianarosenfelder@gmail.com052-782-6706
לחצו למילוי פרטים וקבלת מידע נוסף: